Elderberries - Nature's Superfood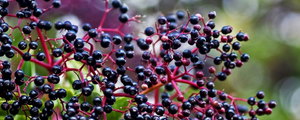 It is no surprise that over the past few months, as the pandemic has entered uncharted territory here in Australia, there has been increased interest in natural immune-building products as Australians look for ways to keep our immune system strong in uncertain times.
Certainly, that has been the experience at Ashbolt Farm, with a surge in popularity of many of our Elderberry offerings.
Our recent elderberry top sellers:
Elderberry Concentrate - Original or No Added Sugar
A versatile favourite, high in antioxidants. Elderberry Concentrate is a stunning rich ruby-red syrup with a deep chocolate-berry flavour.

To assist your immune system:
Take 20ml, 1 to 3 times a day
- neat, or diluted with sparkling water
- add to smoothies or drizzle over yoghurt or ice cream
- as a tea mixed with warm water (add some mulling spices if desired)
Elderberry & Manuka Honey
Nature's cold and flu syrup combo. A syrup made of fresh Tasmanian elderberries and 300+ Manuka honey; tangy orange zest and a hint of cinnamon and star anise. All natural, Tasmanian.

To assist your immune system:
- ½ tsp daily for children (age 1+*)
- 1 tsp 2 to 3 times daily for adults;
*Not recommended for babies as it contains honey
Freeze-dried Elderberry Powder
100% Elderberries. Freeze-dried to retain natural goodness. A delicious powder to add a boost of flavour, texture and antioxidants to healthy hot drinks, biscuits, cakes, salads, ice cream, yoghurt & muesli. No added sugar.

To assist your immune system:
- Mix 1-2 tsps in a smoothie with a frozen banana, handful of spinach, milk of choice and a dollop of yoghurt (tip: freeze any leftovers in icy pole moulds)
- Add to muffins, biscuits or banana bread
Can't decide? Try them all - in our NEW "Top 4" Elderberry Products
If you are feeling run down, try our "Top 4" Elderberry Products, which has one each of our top sellers. Try them all and find your favourite way to experience the amazing health benefits of Ashbolt Elderberries.
Pack includes:
1 x Elderberry Concentrate 375ml - sweetened
1 x Elderberry Concentrate 375ml - no added sugar
1 x Elderberry & Manuka Syrup 100ml
1 x Freeze-dried Elderberry Powder 100g


Why Elderberries?
Elderberry's traditional reputation is as a "cold and flu" superfood, with nearly 3 times the antioxidant value of cranberries or blueberries. Its health benefits have been acknowledged throughout history and in some clinical research.  Due to the elderberry's high antioxidant and Vitamin C properties, and its potential to build the immune system, elderberries have long been used to treat influenza, colds, coughs and upper respiratory, bacterial and viral infections. Elderberries have also been used to assist in treating asthma, arthritis, allergies, diabetes, weight loss & irregular bowel activity. 

*It's important to understand that no supplement will cure or prevent disease. We don't make any guarantees about the effectiveness of our product in treating any ailment. All we can claim is that our Ashbolt Farm Elderberry products taste great, are delicious in so many ways, and contain concentrated elderberries hand-picked from our grove.