Get Christmas Ready - Keep it simple with Ashbolt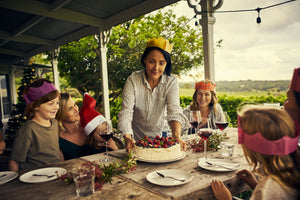 The advent calendar is up - the countdown to Christmas is on! Whether you're in charge of the whole day, or just bringing a plate, Christmas entertaining can be hard. 

So, we have put together some quick entertaining ideas to keep it simple, but suitably impressive, and a recipe for our delicious Elderflower and Watermelon Mojito!
Your Christmas Table - à la Ashbolt
Here are some ways to brighten the Christmas table with our unique, all natural, purely Tasmanian products. Straight from our family farm to you!
Ashbolt Extra Virgin or Lemon Agrumato Olive Oil
- Dip fresh, crusty bread in heavenly Extra Virgin
- Drizzle over bruschetta & guacamole
- Make a Cannellini Dip even an Italian would be proud of
- Dress salads and pasta with this liquid gold

Elderflower and Elderberry Salad Dressing
- No matter the salad, our vegan dressings will add a 'zing'
- Drizzle over roasted or steamed vegetables, grilled fish or oysters

Elderberry and Tarragon Marinade
- Use as a marinade for BBQs and roasts
- Baste your Christmas turkey or ham

Sour Cherry Mulled Spice Sauce
- Glaze your roast pork or ham
- Drizzle over pavlova or ice cream for a festive twist
The Drinks Trolley
Impress your guests with our unique refreshing drinks. All completely natural, preservative and additive free, and 100% Tasmanian. Crafted from healthy, home-grown natural ingredients.

A toast the whole family can join in on...
- Toddlers to designated driver will delight in being able to share something special


Our 'ready to go' for outdoor entertaining...
- Add a nip of spirits for an easy mixed drink


Mix it up with Ashbolt... 
- Simply mix our 
Concentrates & Cordials
 with still or sparkling water (add your favourite spirit for an extra twist)
- Serve up a pretty jug of
Elderflower
punch with soda or sparkling wine and your favourite fruit
Views from Annie's Desk - Ashbolt Farm, Tasmania
During December, the urgency of pre-Christmas tasks build to a crescendo.  Competing demands of the farm, groves, livestock; sales and markets; and an overly large produce garden all combine to turn me into a real bah-humbug about the expectations of others around food and fun!

But slowly somehow, the excitement gets under my skin ... thoughts of catching up with family, especially the little ones; long, long lunches over our few days off; the buzzy constancy of a busy household - yummy food; and that extra special bottle of sparkles.  Time in the swing chair on the verandah - with kids under the sprinkler and adults groaning from that extra slice of pudd!  Topped off at my fave place of all ... my river (for a swim as soon as lunch starts to wear off).

Most of all, Christmas is the time of year where we take a moment to stop. To inhale the privilege of living in the magic that is Tasmania, and to indulge in the joy of all we have created over our 42 years here at the farm. 

Don't get me wrong, it isn't an easy time, but we deliberately keep Christmas so simple now. Good food, easily prepared. No piles of presents, just one gift per person. Keeping it simple means we get time to enjoy the season!

We hope you find a moment for peaceful refection, good food, laughter and pure enjoyment.  Thank you for your ongoing support of our farm this year.  Wishing you Health and Happiness.