Delicious Ideas for Using Elderflower Concentrate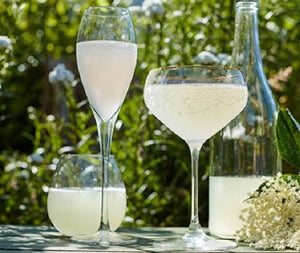 Our Elderflower Concentrate is the source of many a rave review. This delicious syrup has the unique floral aromas of the tiny white flowers of summer and keeps our customers coming back time after time. Truly 'the Taste of Summer'
Here are some of our favourite Elderflower Syrup recipes ideas and serving suggestions for you, your family and friends to enjoy...
Elderflower Concentrate recipe ideas
Sweet Entertaining - elderflower is simply divine folded through whipped cream. Use as a topping over pavlovas, desserts, sponge cakes and scones. Add to sorbets and jellies, or to create a spectacular birthday or wedding cake (just ask Harry and Meghan for their recipe)!
Classy Cocktails - a match made in heaven mixed with gin, vodka or prosecco, or summer punch. Or with sparkling mineral water for an elegant non-alcoholic alternative (serve in a champagne flute).  
Fabulous Fruits - add 'zing' by drizzling over fruit salad, marinating fresh summer berries or poaching autumn apples. And plumping up dried fruits for desserts.
Heavenly Scents - transform plain yoghurt, custard, pastry cream and ice cream with the floral aromas of elderflower.
A message from Ashbolt Farm
Our dedicated team takes enormous pride in the creation of every bottle of our multi-award winning concentrates, drinks, dressings and extra virgin olive oils, all grown and made here on the farm.
Photo by Richard Davie