Elderberry Syrup Chia Pudding Recipe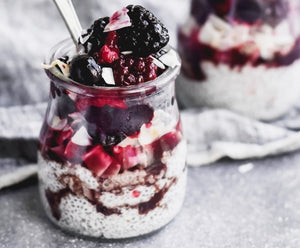 This delicious Elderberry Syrup recipe is by Monique Sourinho of Edible Nutmeg.
This is a quick and easy way to enjoy the rich berry flavours and a boost of vitamins and antioxidants from our Elderberry Concentrate, perfect to keep colds and flus away throughout winter. Monique says "This creamy recipe, both sweet and tart, works as a healthy breakfast or snack...or dessert!"
Serves 3 
Ingredients:
1 cup coconut milk
3 tablespoons chia seeds
1 tablespoon honey
1-2 cups blackberries and/or raspberries
3 tablespoons Elderberry Concentrate
Toasted coconut flakes (optional garnish)
Method:
Combine chia seeds, coconut milk, and honey in a large jar, container, or covered bowl. Transfer to a fridge and let soak overnight.

The next morning, stir the mixture again and transfer into 3 smaller bowls or jars. Layer berries on top of each, drizzle 1 tablespoon of elderberry syrup per serving, then garnish with coconut flakes!