Carpaccio of Yellow Fin Tuna with Ashbolt Olive Oil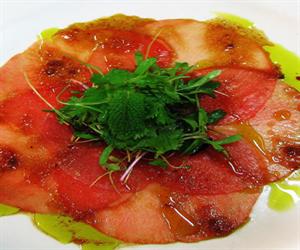 The vibrant green colour of the Ashbolt Extra Virgin Olive Oil features prominently in this Carpaccio of Yellow Fin Tuna with a salad of fennel, grapes and olives. 
Recipe from Simon West, Meadowbank Estate Vineyard
Ingredients
400g yellow fin tuna (cleaned, one piece)
150ml Ashbolt Extra Virgin Olive Oil
1 bulb young fennel, shaved
100g Ligurian olives, pitted
150g seedless grapes
50g tiny capers
10g sea salt
Pepper to taste
Juice of 1 lemon


Method
Step 1
Wrap the piece of tuna in cling film to form a cylinder and place in the freezer for 15 – 20 minutes. This will allow the tuna to firm up and become easier to slice.
Step 2
In a bowl toss fennel, olives, grapes and capers with lemon juice, a pinch of sea salt, cracked pepper and 50ml of the olive oil.
Step 3
Take tuna from freezer, unwrap and slice as fine as possible. Distribute evenly between four plates. Top the tuna with salad and drizzle the remaining olive oil over the fish, season with sea salt and pepper.