How to Use Elderberry Syrup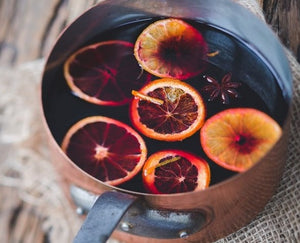 Our Elderberry Concentrate (aka Elderberry Syrup), brings deep rich flavours to hearty winter dishes, desserts and herbal teas while keeping colds & flu at bay!
Why not enjoy our favourite Elderberry Syrup recipes, ideas and serving suggestions the next time there is a chill in the air ....
Elderberry Concentrate recipe ideas
Breakfast Beauty - simply add a splash of elderberry to your morning yoghurt, stewed fruit, Bircher muesli, porridge or smoothies.
Anne's Speedy Spag Bol – when you need a meal in minutes, instead of waiting for the red wine to reduce, replace with a good slosh of elderberry concentrate (and enjoy the wine in a glass instead). It adds deep richness to your bolognaise sauce, casseroles, pan juices & gravies.

Bob's Bedtime Beverage – our nightly ritual is an after-dinner relaxing cup of elderflower and elderberry tea. Just add boiling water to a slice or two of fresh lemon or orange and/or ginger in a cup. Allow to steep a moment. Add a good shot of elderflower and a swirl of elderberry. Bedtime bliss and perfect for sore throats. Sleep well.

Pink Champers anyone? – pretty up a glass of champagne, tonic or mineral water with a good drizzle of Ashbolt Elderberry No Added Sugar Concentrate. Or better still, spice up your favourite spirits – gin, brandy, Campari or a smooth single malt. Drink neat or with a sparkling spritz.

Decadent Dessert – slightly warm a shot of Whisky or Cointreau with equal parts Elderberry, and pour over your favourite vanilla ice-cream.
By the Spoonful - the easiest way to add some elderberry to your day is to simply have a teaspoon or two! It's luxuriously rich and delicious. 
Our dedicated team takes enormous pride in the creation of every bottle of our multi-award winning concentrates, drinks, dressings and extra virgin olive oils, all grown and made here on the farm.
Read more about how Elderberry can be immune supporting in many ways.