NEW SOUR CHERRY - JUST IN TIME FOR CHRISTMAS!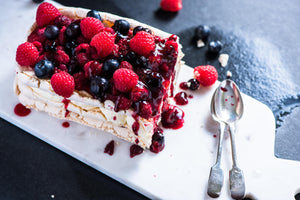 So excited to release two new sour cherry products just in time for Christmas.
Here's a peek at our recent email campaign, which includes some delicious serving suggestions such as this tangy, tasty and simple sour cherry pavlova....delicious!
Home-grown and hand-crafted by our passionate team, our two new sour cherry creations are a true delight, even if we do say so ourselves...
With a decadent bowl of ice-cream or yoghurt; on breakfast pancakes on a Sunday; or poured over a fruit-topped pavlova for a quick and special family treat, our NEW Sour Cherry Unfiltered Juice and Mulled Spice Sauce are perfect to turn even the simplest dishes into a masterpiece. Also great as a mixer or added to your favourite smoothie.
Perfecting the recipe for our tasty Sour Cherry Mulled Spice Sauce (with a hint of whisky) was a labour of love; and the result is delightfully tangy, and just a little bit sweet. The evocative spices are a delicious match for desserts or poultry, or try it in our festive and summery Mulled Spice Sparkling - see our quick and tasty recipe below. It also comes in a cute little reusable 'milk bottle'. Easy to clean - use it over and over again.
Our 100% natural, 100% Sour Cherry Juice (in a 375ml bottle) is free of preservatives, additives & artificial colouring. Unsweetened and full of fresh, tart flavours. Such a versatile juice. Use in similar ways to a Coulis, you will find it equally perfect poured over your favourite deserts; with meats such as poultry, lamb or pork; drunk neat or diluted; or added to a cocktail. 


What do Sour Cherries taste like? 
Sour cherries are, well, tart. Busting with antioxidants, this delicate and rare fruit has a unique sweet-sour flavour that is seeing a resurgence in popularity. Bright, fruity and incredibly tangy, yet sweet, they add a real zing to any dish and perfectly balance the sweetness of desserts such as pavlova.  

Why are Sour Cherries so good for you? 
Sour Cherries have high concentration of anthocyanins, a type of polyphenol in the flavonoid family.  Studies on these super-fruits have included research on arthritis and gout, exercise recovery, sleep, heart health and gut health.