Gluten Free Dressings - not just for lettuce!!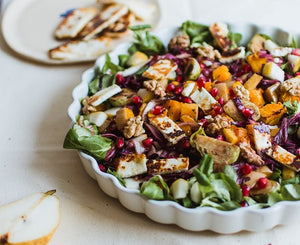 Our Salad Dressing Range is not just for lettuce! Discover new and interesting ways to add delicious flavours to your meals. The following will help you choose the right dressing or marinade. Pick your favourite, or try all three!
Light & zesty Elderflower Dressing - drizzle over warm potatoes, asparagus, avocados, tomatoes & salad greens. Add to salmon & prawn salads, grilled fish, sashimi & fresh oysters. 
Tangy Elderberry Dressing with freshly grated orange zest - perfect tossed through mushrooms, stir-fries, rice salads and couscous. Drizzle over hot roasted veggies, or warm duck/chicken salads and barbecued meats. 
Elderberry & Tarragon Marinade - massage into lamb, beef, pork, venison, goat and duck an hour or two before cooking. A family favourite is to baste roast pumpkin and root vegetables.
All our dressings and marinades are egg free, gluten free, and contain no added preservatives or additives.